Life's not about how hard of a hit you can give...It's about how many you can take, and still keep moving forward.
The highest reward for a person's toil is not what they get for it, but what they become by it.
Courage is the first of human qualities because it is the quality that guarantees all others.
The ultimate aim of karate lies not in victory or defeat, but in the perfection of character of its participants.
Concentration is the secret of strength
If you always put limits on everything you do, physical or anything else, it will spread into your work and into your life. There are no limits. There are only plateaus, and you must not stay there, you must go beyond them.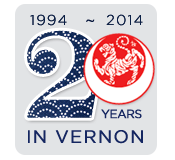 Calendar
Sensei Dixon winter seminar and kyu/grading
All members are welcome to attend the class. Grading will be done immediately after.
Seminar In Port Moody
Cancelled.
Winter Training session ends
Stay Safe!
Spring Training Session Begins
Welcome back from March Break! Get ready to train hard.
ISKF Provincial Championship
Cancelled.
ISKF National Championship
Cancelled.
Spring training session ends
There will be a small break before the summer session starts.
Seminar In Port Moody
With Sensei Hiroyoshi Okazaki at 2922 St. Johns St. Port Moody.
Summer Training session begins
Don't forget your water bottles, it gets hot in the dojo!
Last Day of Summer Training
See you in the fall!
Fall Training Session Begins
Welcome back all students!
Happy Hallowe'en
Come out for some spooky early morning training.
Fall Training Session Ends
Have a great holiday season everyone and we'll see you in January!
X-mas get together 6pm at Temptasion Restaurant. RSVP with Carla before the date.